The European association for clinical psycho-neuro-immunology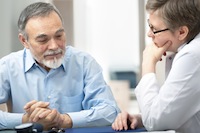 We represent the interests of patients, professionals and scientists of the special field of clinical psychoneuroimmunology.
Clinical Psychoneuroimmunology is a continuously growing interdisciplinary science which deals with the complex interrelations between health and illness integrating this knowledge of these two into the clinical day-to-day routine.
Certified experts in clinical PNI come from different medical professions like medical doctors, physical therapists, osteopaths and sports scientists. It is an addition to their general profession and opens the possibilities to use the interdisciplinary network in treating chronic illnesses even more due to comprehensive knowledge from the fields of psychology, immunology, neurology, endocrinology and sociology.
Many chronic illnesses are not unicausal in its development. Consulting a certified medical professional out of our network might help you to find the optimal way of treating your illness.
Targets of the European Association of clinical PNI:
Extending the multidisciplinary network
Strengthen the scientific base
Promote the interdisciplinary exchange of knowledge
Informing the public about our department
Support publishing attempts